We
had some big changes this year... new place, new jobs, new chapter in life. I feel like it was just yesterday when I had my new year's plans, and then the move and suddenly it's time to bid adieu to the new year and get ready for the next one.
But before the new year ends, the last post is for the two events hosted by two of my favorite bloggers.
Click
is hosted by Jai and Bee at
Jugalbandi
and the theme for December is Nuts. We had some delicious roasted almonds and chestnuts as part of the end of the year celebration thanks to the event :) This is my entry to the event.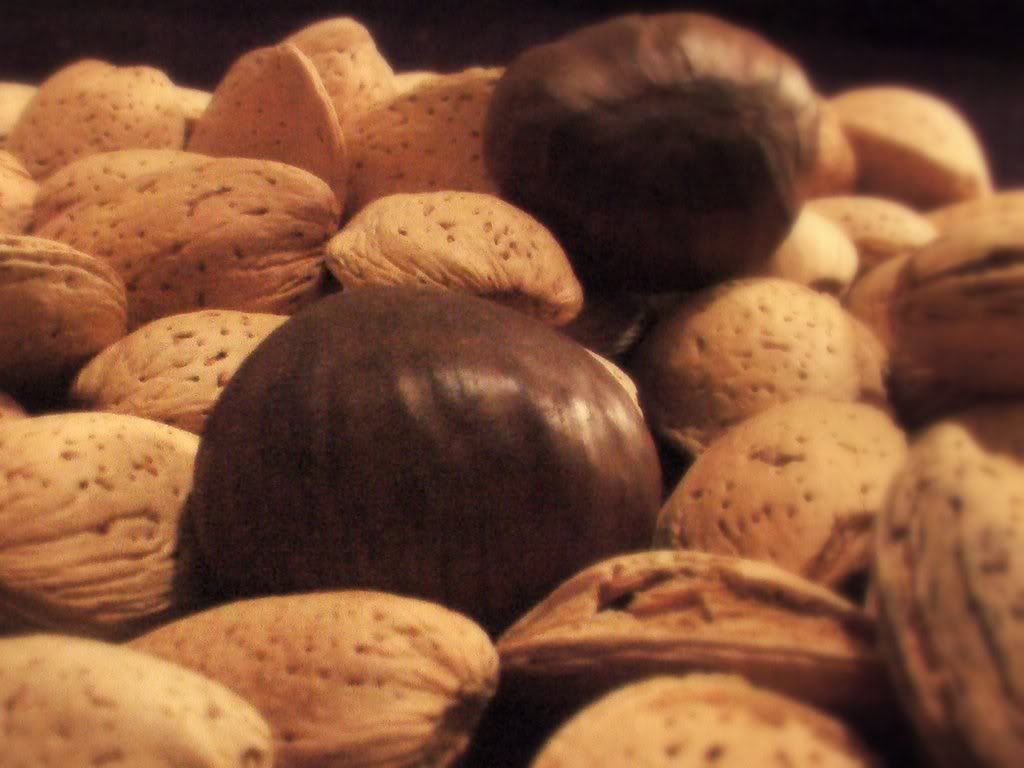 Nupur of
One Hot Stove
is hosting
Best of 2007
. And this is the perfect time to look back and see all the things I wanted to do - learn new recipes, experiment with some to come up with my own, make some healthy choices and really at the end of the day, serve healthy and nutritious food.
It is so hard to choose from the recipes and posts for my favorites. Looking back, I thought each recipe, event and dish gave me something new - a new taste, a new recipe, a new grain, a new flavor, above all, something delicious. In no particular order, here are some of the recipes and moments from last year.
Oven Poached Sea Bass with Quinoa Pilaf
- We started the year with this wonderful dinner to celebrate our first wedding anniversary. I learnt how to poach fish and also discovered a new grain. Something new, something exciting, this definitely has set the tone for the years to come. Now that the 2nd anniversary is around the corner, I have to think of something for the special dinner. Any ideas? :)
Home Baked Bread
- You probably know how much I wanted to bake my own bread. And I finally did it when I baked the No Knead Bread. With the crunchy outer crust and the softness inside, it had given me the inspiration to keep baking. So lookout for new breads this year!
Enchorer Dalna (Jackfruit Curry)
- I celebrated the blog anniversary with the taste of Jackfruit curry, a taste I have not had in many years. This curry took me back to the childhood days when we visited grandparents every summer and had endless Mango and Jackfruit eating sessions. Now that I have rediscovered it, I am bound to make more of such recipes.
Spring Chocolate Sundae
- With the blog community I feel like I am constantly experimenting and it is broadening my horizons. This was one of those moments. I mixed some fresh mangoes, chocolate, a berry sauce and the result was this flavorful sundae. It captured the taste of spring for me :)
Spicy Beetroot Soup
- I like soups and I am always trying to make something that is quick, wholesome and nutritious. This was one of them. This year I also tried
Thai Soup with Tofu
,
Roasted Sweet Potato Soup
and
Slow Cooker Black Bean Soup
. I already have a list of soups that I want to try next year.
Black Forest Cake
- I baked one of our favorite cakes this year for Aswin's birthday. I have one word for this - indulgence!
Indonesian Trout Curry with Chestnuts
- I end the year as I started 2007 with a new recipe and a new flavor. This Indonesian curry with the creaminess of coconut milk, the chestnuts and the smoothness of the fish gave me a new appreciation for trying out new recipes. I am hoping to continue the same next year.
Everyone has aspirations for the new year. For my kitchen and for us we want to do more of the same. Hopefully we will continue to make simple quick dinners and lunches, indulging our tastes, learning new recipes and making healthy food.
Thank you everyone for your encouragement and continued support. Wishing everyone a
WONDERFUL AND EXCITING NEW YEAR.