The
blogs turned green again, for the
Green Blog Project Winter/Spring 2007
! Just as the Farmer's Market was winding down for the year, I signed up for the
Green Blog Project - Winter/Spring 2007
. I told Inji, "I could use some green in this long white winter." And I was not disappointed. We have bloggers from several cold places in North America, and we also have bloggers from countries like New Zealand reminding us that summer is just an earth's rotation away!
Winter, needless to say, is an especially difficult growing season. So here's celebrating bloggers who braved all odds to grow a wonderfully diverse array of plants, and of course, the resilience of the plants themselves!
Green Blog Project
was created by
Inji of Ginger and Mango
. See her roundup of Summer-1
here
.
The roundup is broadly divided into two categories of vegetables and herbs:
Let's start with Jayshree of Spice and Curry. After she went back to India, she gave us a tour of her mother's kitchen garden which has papaya, banana, fresh cabbage, eggplants, and greens. It made me nostalgic for the kitchen garden I grew up with filled with seasonal vegetables like okra, cauliflower, and carrots. I remember plucking the fresh vegetables on misty wintry mornings when the soil was still soaked with dew. Thanks Jaya!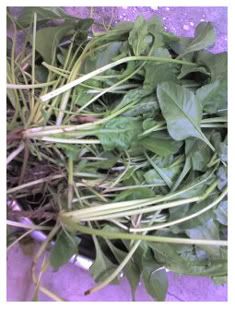 With Spinach from her kitchen garden,

she made some delicious
Palak Paneer
.

Taking advantage of the Indian winter, Jaya next tried her hand at a Bengali recipe.
Using white radish from her garden,

she made mulor chechki. Chechki is a term used to describe the specific manner in which vegetables are shredded. Thanks Jaya!

---
Pam of Project Foodie
is an ex-Buffalonian living in California and someone who enjoys her Winter Garden, something she couldn't do in Buffalo.
She grew snow peas and made
a delicious
stir-fry with the fresh vegetables
and pork to go with cashew rice. Yummy!
---
Gini of Salt and Pepper
has a thriving garden too. She is joining us for this round of GBP with two entries. I'm sure you will drool over the pictures as I did. She also has pictures of her vegetable patch with herbs and vegetables in her blog. Click
here
to enjoy it.
After thinking about this countless times,
Gini took some fresh green tomatoes from her garden and
made
Fried Green Tomatoes
right at home. How about a cup of hot chai/coffee with this savory appetizer?
Does anyone remember the trips to the local vegetable market when there is an ingredient missing from the dinner or lunch menu?
Gini does and here, she has recreated a nostalgic meal
-
eggplant fry
- after she grew her first eggplant. These pictures are an inspiration to get my vegetable garden ready, Gini!
---
Inji of Ginger and Mango
, the creator of this event, stays true to her blog name. Did you ask if she tried growing a mango plant? She might just surprise us with mango in the future.
But this time, she grew fresh ginger in a pot and
made
Sour Ginger (Pulinji)
for this event.
---
Sailu of Sailu's Food
can grow tomatoes in winter!
She grew these beauties in pots (my kind of gardening!) and
made fresh
tomato kothmira pachadi
to go with fluffy white idlis. You're right, Sailu. There's nothing like plucking fresh vegetables for cooking!
---
Jai and Bee of Jugalbandi
went to a local nursery and got some zucchini saplings. Except they realized it wasn't zucchini.
It turned out to be Banana Squash and they had a bountiful harvest, of 65 pounds! They recently finished their squash supply with some lovely recipes including
this
pumpkin and leek soup
. What are you planting next, Jai?
---
Sher of What Did You Eat
loves her vegetable patch. And you can see why.
She has fava beans, tomatoes and lettuce growing in her garden.
She made a scrumptious
mixed green salad with boiled eggs and organic flowers
. This delicious looking salad is also a healthy and filling lunch. Thanks Sher!
---
Roopa at My Chow Chow Bhath
grew up eating basale (spinach) greens.
She has a potted spinach plant in her home
and makes
fresh spinach raita
with jaggery and methi seeds for GBP. That sounds delicious, Roopa.
---
I grew some carrots in my "potyard," as I call it.
These fresh carrots made
the
carrot kheer
prepared for Durga Puja extra sweet!
---
Asha of Foodie's Hope
loves springtime, even if it means allergies!
She has a lovely garden which includes a herb patch where she grew Mint and Chives and then made some
minty masoor dal with turnips
. She also has radish growing in her garden. Is that for the next round of Green Blog Project, Asha :)?
---
While I was sloshing through snow and grumbling about sub-zero temps, folks in New Zealand were soaking up the sun!
Arfi of HomemadeS
, who lives in Tuakau, has a wonderful vegetable and herb patch.
She treats it organically and has some useful tips in her post. Arfi planted coriander seeds and watched the plants grow. She wasn't in a hurry, unlike me. She waited till they flowered and then had seeds.
She used the coriander seeds in her
Fried Tempeh
(Tempe Goreng) recipe. Super delicious!
---
Priya at Live to Cook
had a great idea.
She grew some pea shoots in the New England winter, a Chinese delicacy called dou miou, and
made
Pea Shoot Roti and Jowar Adai
. She's left some stems in the soil which will yield some peas by the time summer comes around :)
---
Sheela at Delectable Victuals
has a thriving garden where she grew about the same amount of squash as Jai and Bee. :)
For GBP, she has highlighted her rosemary and chives
and made
rotini with fresh herbs and squash
.
---
Sandeepa at Bong Mom's Cookbook
has two herb delights.
With her Holy Basil she brought from the temple, and which survived the winter,
she made an
ayurvedic brew
for a bout of cold.
With the other basil, she made
Thai Red Curry
for her first Bengali friend in the US. Sandeepa talks about her plants with the same passion she talks about her three-year-old and Bengali Cuisine :) Great job, Sandeepa!
---
Nupur of One Hot Stove
tells us that she didn't have a green thumb. But I say she has!
Look at that healthy green methi plant she has growing near her window.
Using fresh methi, Nupur makes
Carrot Methi Fry
. Before you go, look at her Basil plant.
She's getting ready for summer GBP!
---
Jyothsna at CurryBazar
has made
Pineapple Morukutan
,
spiced with curry leaves!. Jyothsna is proud of her curry plant which survives the harsh summer of Sharjah
and also gives her the wonderful aroma of home.
---
Linda at Out of the Garden
has been giving us sneak peeks of her methi plants.
But when the cold weather hit again, the plants refused to grow anymore.
So Linda promptly picked them up and fixed herself
scrambled eggs with methi
served over crispy papad. Scrumptious scrambled eggs!
---
Sarina at TriniGourmet
has a thriving herb patch in Trinidad,
where she grows chives, basils and other herbs.
She made
Vegetable Curry in a Hurr
y
with these fresh herbs. I bet it was gone in no time.
---
Deepz at Letz Cook
was worried when she left her plants at home to travel to India.
She came back to find healthy, thriving plants, especially her curry plant.
Using fresh leaves from the curry plant, she made spicy and delicious
curry leaf powder
. If only I can get my hands on that delicious looking curry powder!
---
Reena at Spices of Kerala
has lots of plans for summer gardening.
For now, she chose to highlight the rosemary plant in her herb garden, which is a "jungle" in her own words.
Her entry, Sambar with Rosemary , looks delicious.

---
I grew garlic greens and made some fresh
pasta with garlic greens and artichokes
.
It was delicious and brightened the cold, short days of peak January winter.



Emboldened, I threw in some cilantro seeds and had a cilantro plant. Along with cayenne pepper from my chilli plant, I made green cayenne pepper and cilantro dressing for a quick salad.

---
Update - Anita at A Mad Tea Party wanted to participate in Green Blog Project, but missed the deadline. But her Mint Walnut Chutney looked so delicious, I had to include it in the roundup.
Her potted mint plants are happy that the sun is up in Delhi.
Using fresh mint Anita made yummy chutney. She also uses mint for fresh salads, eggs and refreshing jal jeera. Cold, spicy jal jeera on hot summer days, I remember those days!
---
Now let's head over to
Deepz at Letz Cook
for the next round of Green Blog Project - Summer 2007 (applause)! It's time to plant those tomato, pepper, eggplant seeds, and much, much more.
It was great fun hosting this edition of the Green Blog Project. I learned a lot about gardening and plants, and truth be told, wouldn't have persevered with my efforts at winter gardening without this wonderful community of food bloggers for support.

Thank you all for participating!