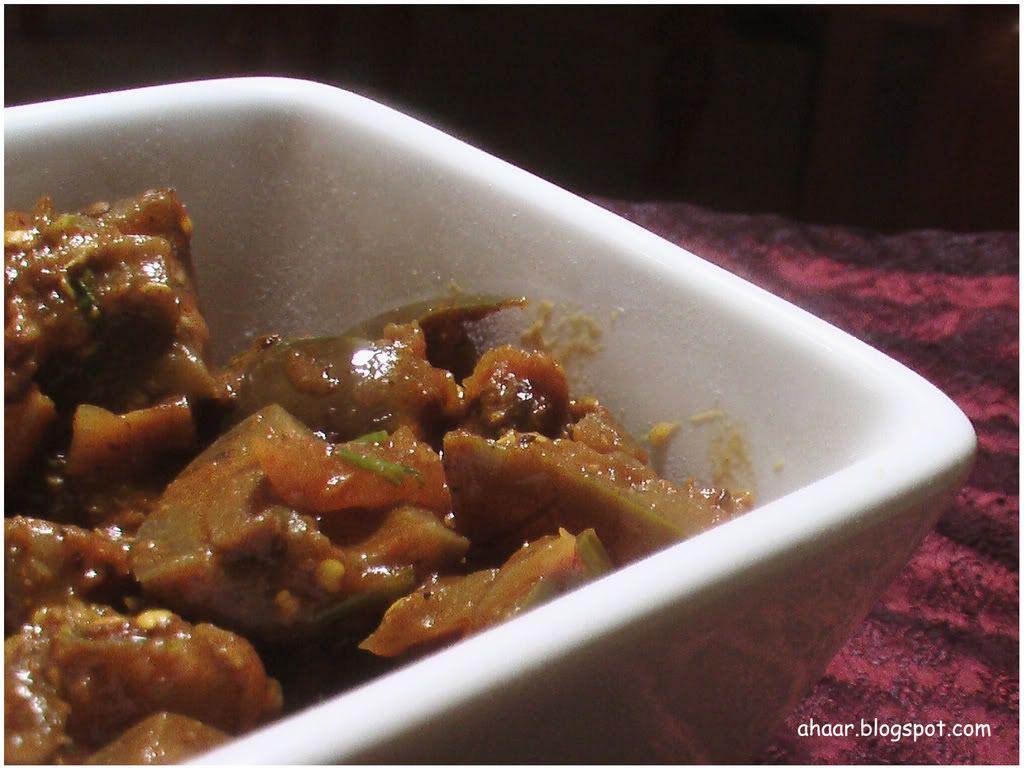 It's

time for the midweek post, so that means the recipe has to be quick, fast, filling and delicious :)

I have been trying to buy enough veggies to last for a week so that I can make a trip to the Farmer's Market. But I always buy too much. But it is hard to resist when there is fresh karela (bittergourd), lauki (bottlegourd), okra, eggplant , fresh greens, beans and many more stores in rows. I inevitably buy more than we need.

While buying

lauki

from a old local farmer last week, we got talking. He told me about his wife who is suffering from Parkinson's disease and that he has taken over the chores of the house including cooking. We traded some recipes, and I couldn't help thinking how personal and touching this experience was for me rather than just going to a store.

Back to the recipe, this is a simple eggplant recipe that I've tried with and without tomatoes. What I like about this recipe is that the eggplant doesn't turn mushy. It's simple and goes well with rotis and parathas.



Ingredients:



1 large eggplant
1.5 in piece of ginger - chopped
1 small onion - chopped
1 small tomato - chopped
1/2 tspoon turmeric powder
1 tspoon coriander powder
1/2 tspoon cumin seeds
2-3 tablespoons olive oil
Salt and chilli powder to taste
Method:
Cut the eggplants in medium cubes and soak it in water for 2-5 minutes.
Heat olive oil and temper it with cumin seeds. Add ginger and saute. Then add the chopped onions saute. Once they begin turning brown, add the tomatoes, coriander and turmeric powder.
Then add the eggplant and chilli powder. Mix well and let it cook on closed lid for 4-5 minutes. Then add salt and cook for another 3-4 minutes or till the eggplant is cooked. (Add little water if needed).
Garnish with cilantro (optional) and serve warm.