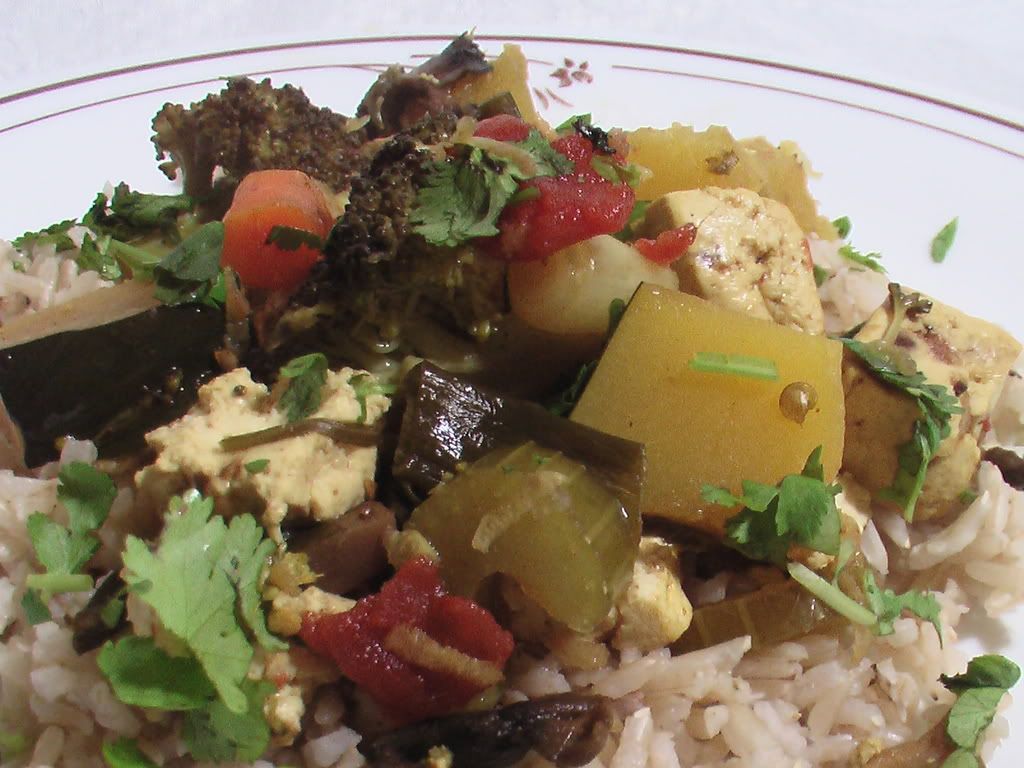 I
heard about the clay pot cooking few months ago. I've seen it in my childhood but never cooked in one myself. So when I came across a clay pot in a garage sale this summer I grabbed it. After reading and getting the clay pot ready for cooking, I recently made tofu curry perfect for the fall weather- with carrots, tomatoes, broccoli and pumpkin.
Ingredients:
1/2 block Tofu - cut in small pieces
1/2 pumpkin - cut in medium pieces
2 green onions
1 floret broccoli chopped
2 medium carrots - chopped
2 tomatoes - chopped
2 celery sticks
1/2 tspoon chilli powder
1/2 tspoon coriander powder
1/2 tspoon soy sauce
1 1/2 cup water
salt and pepper to taste
cilantro to garnish (optional)
Method:
Cut all the veggies and keep it aside.
Take a tspoon oil and lightly saute the tofu. Keep it aside.
In the meantime heat the oven to 300 degF and heat the claypot in the oven for 10 minutes before adding the veggies. Soak the clay pot in water for 24 hours prior to cooking in the pot.
Put all the veggies, tofu and the spices in the clay pot and close the lid tightly.
Put it in the oven and let it cook at 300 deg F for 30 -40 min till all the veggies are cooked. Garnish with cilantro and serve warm with rice.
This turned out so good, I can't wait to try biryani in the clay pot next!