When
we were in Buffalo visiting friends a couple of months ago, one of our friends made this delicious chicken kabob. It took about 20 minutes to cook and tasted delicious as an appetizer with wine and even went well with dinner. I had been thinking about the recipe for a while and decided to make it for our little celebration for the Christmas Eve.
I used the chicken from the Farmer's Market to try out the kabob, so it had a mix of boneless and boned pieces. After marinating it for a couple of hours, we put it in the oven. I tried my broiler for the first time, and it worked out like a charm, just like the malai kabobs.
This is Swati's chicken kabobs

Ingredients:
1 lb chicken pieces cut in small pieces. (I used a mix of thighs, breasts, and legs)
3 tbsp fresh lime juice
1/4 cup yogurt
2 tbspoon fresh ginger-garlic paste
1 tbspoon garam masala
2/3 tspoon red chilli powder
1/2 tspoon turmeric powder
1/2 tspoon coriander powder
Salt to taste
1 tbspoon olive oil
Method:
Make the marinade by combining salt, yogurt, ginger-garlic paste, lime juice, garam masala, turmeric powder, coriander powder and red chilli powder in a medium bowl. Mix well. Add chicken pieces to the marinate and coat well. Let it marinate overnight in the refrigerator. If not atleast marinate it for a couple of hours.
Heat the oven to broil and then put the chicken in for 20 minutes. At the 10 minute interval, take the tray out and turn the chicken pieces. Check on the chicken often to ensure it's not overcooked or undercooked.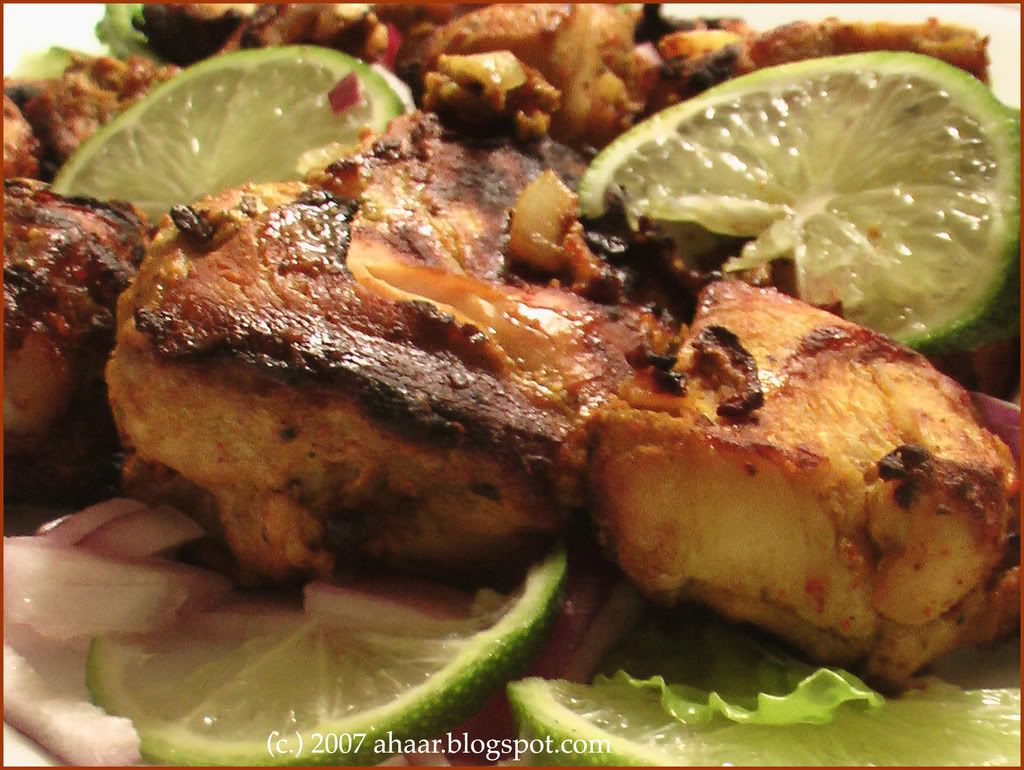 Serve with lime, onions and cilantro.
BEST WISHES FOR A WONDERFUL CHRISTMAS TO
FELLOW BLOGGERS, FRIENDS & FAMILY.