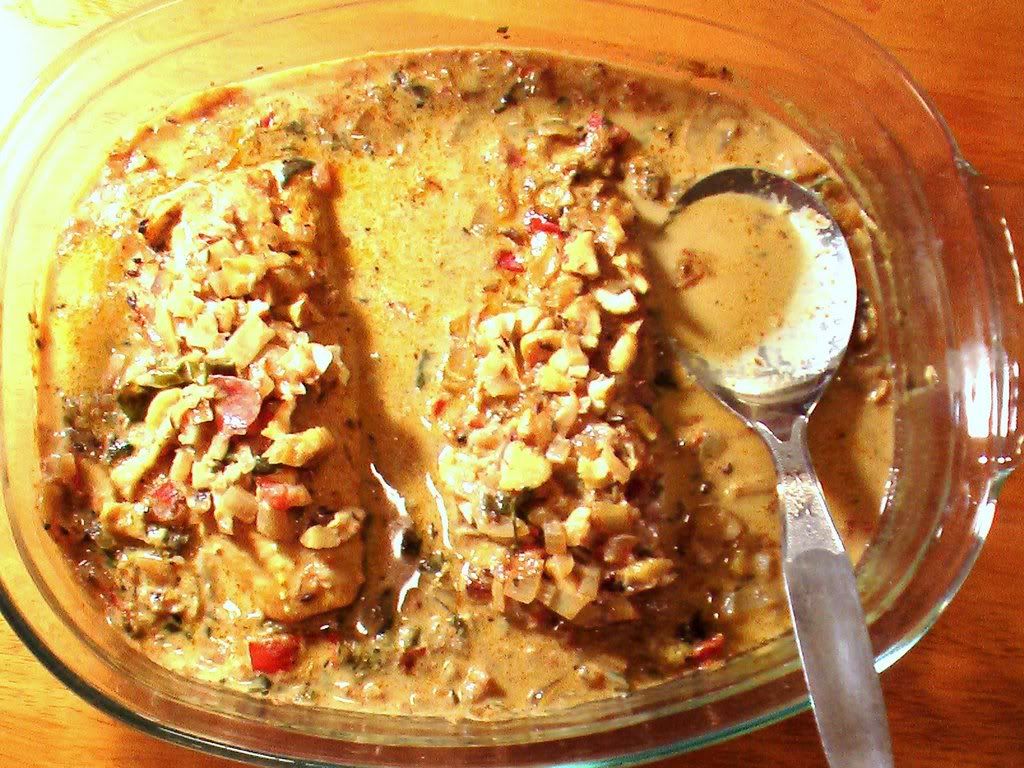 We
knew that a snow storm was heading our way, there had been abundant warning about that. What we didn't expect was that we would get a foot of snow. In the evening, when the snow was finally tapering down, we went out and cleaned our car. And tried driving around, but gave up after 15 min of driving and skidding on the road at 10 mph.
Instead we headed back home for a warm fish curry. We got a nice long Trout fillet from Whole Foods recently and I instantly knew that we had to make something special with that. I looked around for a different recipe. I came across this
recipe
which sounded delicious. So I adapted it to our tastes adding a tomato, and some more spices.
Also I baked the fish curry instead of cooking it on stove top. Let me tell you how it tasted. It had the spicy notes mixed with the smooth coconut milk, the meatiness of the chestnuts complimenting the soft fish. In all it was one delicious curry which we enjoyed with rice.
Ingredients:
(adapted from Chef Jane Thatcher)


1 long Trout Fillet or 2 medium
1 Medium Onion - chopped thinly
2 cloves Garlic - chopped fine
1" cube Ginger - chopped fine
1 medium tomato- chopped thinly
1/2 tspoon red chilli powder
1/2 tspoon turmeric powder
1/2 tspoon coriander powder
1/3 tspoon clove powder
1 can coconut milk (I used lite version)
1/2 tspoon cumin seeds
1/4 tspoon fenugreek seeds
1 dried red chilli
6-8 chestnuts - steamed and chopped
Salt to taste
1 tbspoon Olive Oil
Method:
Roast the chestnuts in the oven at 250 deg F for 20 minutes. Make a 'X' on the chestnuts so that the steam can escape. Let it cool and then chop it roughly.
Marinate the Trout fillet with turmeric powder and salt for a couple of hours. Heat 1 tspoon oil in pan and lightly saute the fillet on each side. Set it aside.
Heat the rest of the oil and temper it with cumin seeds, fenugreek seeds and dried red chilli. Then add the ginger and garlic and saute for 2-3 minutes. Then add the sliced onions and saute till then turn translucent. Add the tomatoes and mix well.
Make a paste of all the powder spices and add it to the pan. Add the coconut milk and mix well. Take it off the heat and set aside. Place the trout fillets in a baking dish and then pour the coconut and spices on the dish. Add the chestnuts on top of the fillet. Bake it at 300 deg F for 30-35 min till the fish is completely cooked.
Serve warm with rice.
This is going to
Grindless Gravies
hosted by Sra at
When My Soup Came Alive
.
In case you haven't heard as yet,
Menu for Hope-4
is going on at Chez Pim. I am offering
two interesting books
for prizes this year. One of them is a limited edition facsimile (bound as a book) of first by an African American published in 1866. The other one is a guide to parmesan cheese by Ari Weinzweig (founder of Zingermans).
Here's How to Participate in A Menu for Hope-4
1. Choose a prize or prizes of your choice from our Menu for Hope at Chez Pim.
2. Go to the donation site at First Giving and make a donation.
3. Please specify which prize you'd like in the 'Personal Message' section in the donation form. You must write in how many tickets per prize, and use the prize code. (Each $10 you donate will buy one raffle ticket toward any prize.For example, a donation of $50 can be 2 tickets for EU01 and 3 tickets for EU02. Please write 2xEU01, 3xEU02.)
4. If your company matches your charity donation, please check the box and fill in the information so we could claim the corporate match.
5. Please check the box to allow us to see your email address so that we could contact you in case you win.Your email address will not be shared with anyone.

Check back on Chez Pim on Wednesday Jaunary 9 for the results of the raffle.