When
I soaked some
chole
this weekend, I didn't want to make the same old chickpeas curry. I was in the mood to try out some new recipe. So I looked around and came this
recipe
in
Bawarchi
. "Tea bag," I said, when I looked at the recipe. But I realized that it was a good idea when I looked at the dark brown color of the curry.
Instead of adding tomatoes I added some tamarind paste and enjoyed the sweet and sour taste of the curry. After adding the tamarind, I omitted the
aamchur
(mango powder) and anardana (pomegranate) seeds.
Here is how I made it.
Ingredients
(Bawarchi recipe)

With Chole
1 1/2 cup chole
1 Tea Bag
2 black cardamoms
Salt to taste

Dry Masala
3 pieces clove
1 piece cinnammon
6-8 black pepper balls
1 tspoon cumin seeds
1 tspoon coriander seeds

Other Masala
2 green chillies - slit
1 tspoon tamarind paste (I didn't have tomatoes at home, and actually enjoyed the sweet and sour taste of the tamarind)
1 piece ginger - finely chopped
1 onion - finely chopped
1 tspoon cumin seeds
1 tspoon garam masala
2 pieces Bay Leaves
2 tbspoon oil
Salt to taste
Bunch of cilantro leaves- chopped for garnishing

Method:
Soak the chole overnight and boil it with a tea bag, salt and black cardamom. Discard the teabag and keep the water for the curry.
In a thick bottomed pan, heat oil and temper it with cumin seeds and red chilli. Add bayleaves, green chillies, and ginger and saute it. Then add the onion and fry till they start turning brown. Then add the tamarind paste, cooked chole, the other dry masala and cook it all together for about 8-10 minutes.

While cooking I mash some of the chole to make the curry thicker.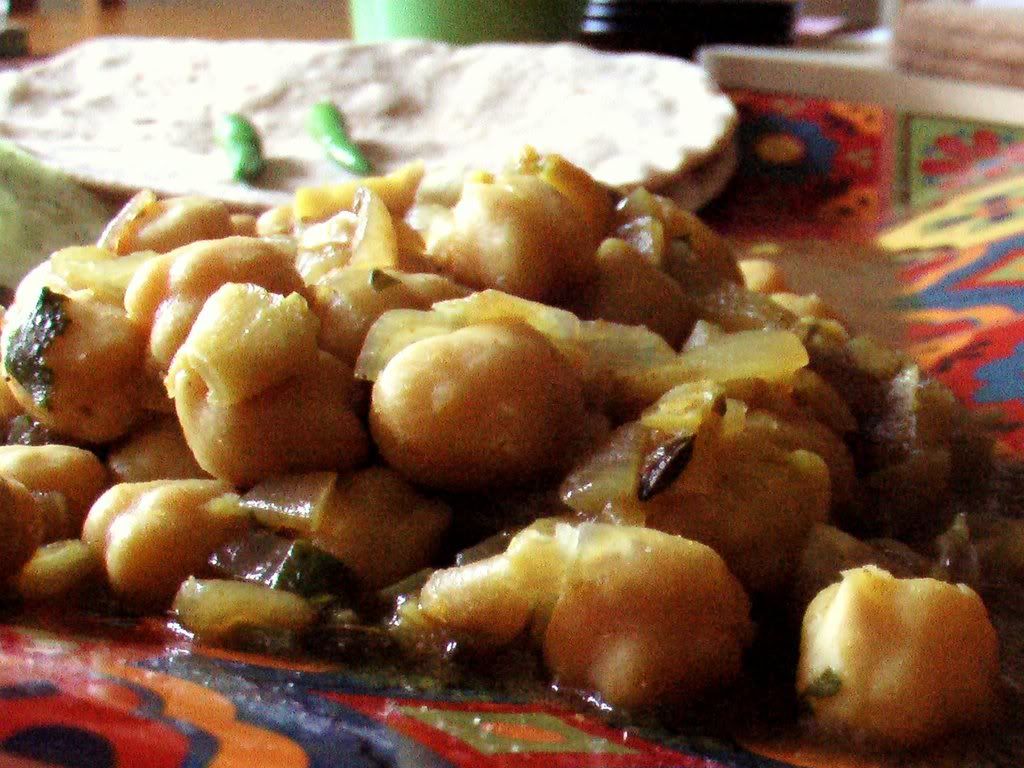 Garnish with fresh chopped cilantro and serve warm. We enjoyed ours with roti and cucumber salad.
PS:
I just found out about the
Legume Love Affair
event and am sending this to Susan at
The Well-Seasoned Cook
.