We
recently celebrated our second wedding anniversary. Like last year, we went out for our anniversary dinner and then enjoyed a special meal the next day.
This year we went to
Pacific Rim
, a pan-asian restaurant. It is small and cozy, just the place we had in mind for the the dinner. The entire meal was wonderful. We started with Calamari, which was crunchy on the outside, and soft inside. The entrees - we both ordered fish - were done to perfection. Juicy and delicious with spices that flavored the fish but didn't overwhelm the taste. For dessert, we tried the molten chocolate cake, and there's nothing like tasting it and thinking 'this is how mine tastes too!'
For the next day dinner, I had a challenge. Last year we had a delicious anniversary
dinner
. And I wanted to make something different this year. After much deliberation, I decided to make fish biryani. Now, I've had some delicious biryanis over the years, but have never made it at home. But I decided to take on the challenge. And I have to tell you that I was so pleased with the result. It was delicious and now that I have done it once, I can't wait to make it again.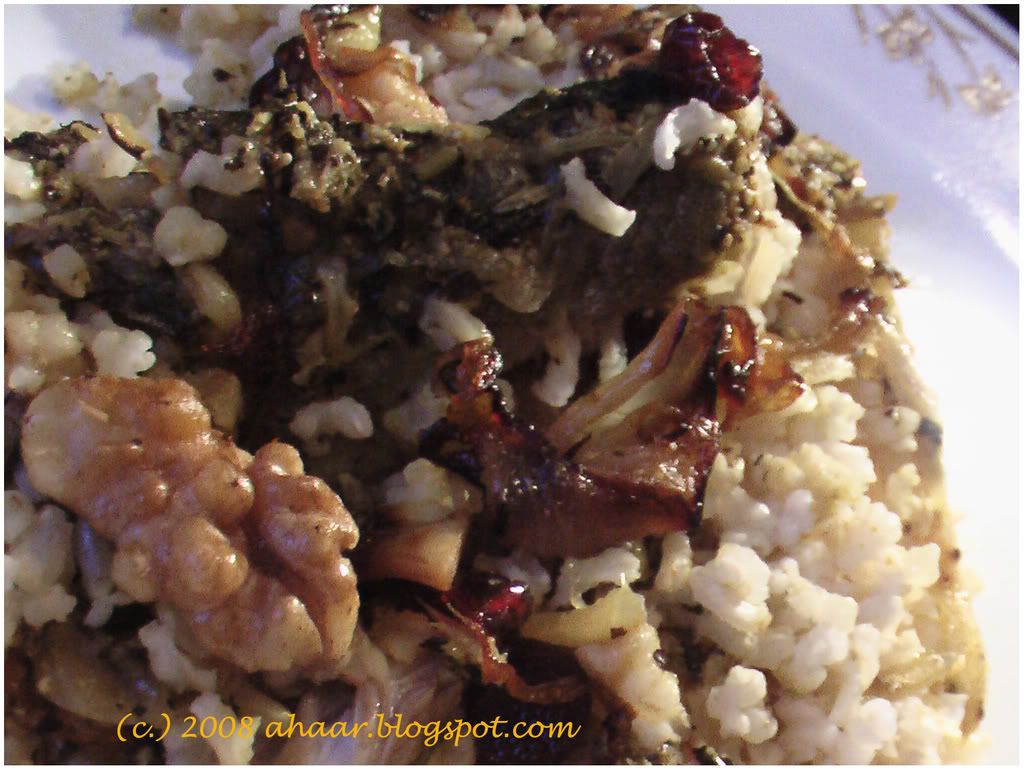 Ingredients:
(Serves 4-6 people)
For marinating the fish:
4-5 pieces firm white fish
1 tspoon chilli powder
1/2 tspoon turmeric powder
1 tspoon lemon juice
Salt to taste
2 tbspoon oil for shallow frying the fish



For masala:


4 medium onions- chopped thinly
2 medium tomatoes- chopped thinly
1" ginger- grated
4 cloves garlic- grated
2-3 green chillies - chopped thinly
2/3 cup cilantro leaves - rough paste
1/3 cup mint leaves- rough paste
2/3 cup yogurt
1/2 tspoon turmeric powder
1/2 tspoon red chilli powder
1 tspoon lemon juice
1 tspoon biryani masala (see below)
Salt to taste



For rice:


2 1/2 cups rice
1 big roll cinnamon
4 cloves
3 green cardamom
1 black cardamom
1 Bay leaf
1 tspoon lemon juice
For garnish: handful walnuts, almonds, raisins, cranberrries



For biryani masala:

(I thought about getting readymade masala, then decided against it)

1 big roll cinnamon
4 cloves
3 green cardamom
1 black cardamom
1 Bay leaf
1 tspoon fennel seeds
1 tspoon coriander seeds
1/2 tspoon cumin seeds
1 dry red chilli
1/2 nutmeg
Dry roast it together and then grind it to a fine powder and then store in an airtight container.



Method:




Fish:

Marinate the fish with the masala and keep it aside for a couple of hours. Shallow fry them and then set it aside. Since the fish will be cooked further, don't fry it crisp. Keep the fish oil for making the fish curry.


Garnish:

Fry the nuts and raisins, cranberries and keep it aside. Then take about 1/4 of the onions and fry it till it gets brown and crisp. Keep it aside for the garnish.


Rice:

Soak the rice for 10-15 minutes. Then boil 4-5 cups water with all the masalas and salt. Once the water starts boiling, put in the rice and let it cook for 10-12 minutes. Cook till the rice is half done, not fully cooked. Drain the rice, and set it aside. Keep the water for making the fish curry.



Fish curry (masala):

Heat the fish oil and saute the ginger, garlic and green chillies. Then add the onions and saute till they start turning brown. Then add the tomatoes and cook till it turns soft. Then add the cilantro leaves, mint leaves, turmeric, chilli powder, yogurt, biryani masala, lemon juice, salt and let it cook for 5-10 minutes till everything mixes together. Add 1/2 or 3/4 cup water kept from rice, if necessary. Add the fish pieces and take it off the heat.



Layering the biryani:

Use a deep dish for layering the biryani. Put a layer of rice, and then alternate it with a layer of fish curry. Top it off with rice and then cover it with crisp onions and nuts, raisins and cranberries. Cover it with a lid and cook it in a 250 deg preheated oven for 30-40 minutes till the biryani is done.



Serve warm and serve with raita, pickle, or chutney.

This special one-dish meal is going to Meeta's Monthly Mingle 18. Thanks for hosting Meeta.