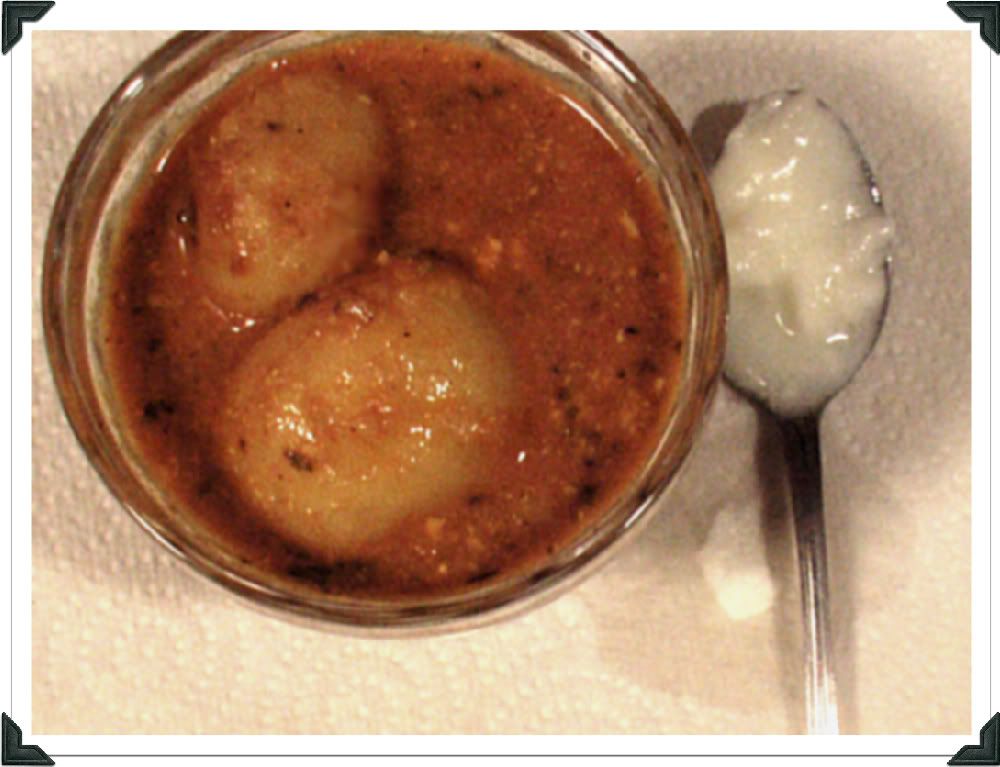 I
can easily add alur dom to my list of favorites. But, it wasn't always so. Growing up, I was a spice wimp and would avoid anything spicy. "
Jhaal
," I would yell and run away to the sugar container. My grandmom made a mean alur dom which was spicy and red hot, a dish that I regularly avoided. It wasn't until my high school that I really tasted her alur dom and was floored. It was flavorful and spicy and delicious.
I made this recently after a long conversation home about how the ingredients, and how she got that delicate balance between spicy but not too hot. I found that usually garlic is avoided in the alur dom. The sweetness of the onion paste is countered with the heat of the red chilli; sour yogurt and tomatoes along with garam masala add to the flavors of the curry. The potatoes are not boiled earlier, rather they cook on medium low heat in the bubbling curry.
The result was fantastic.
Ingredients:
1 lb small potatoes (peeled)
1 medium 0nion grated
2 medium tomatoes - paste
1 1/2 inch ginger - grated
1/2 tspoon cumin seeds
1 dry red chilli
2-3 cloves
1 stick cinnamon
2 bay leaf
2 green cardamom
1/2 tspoon turmeric
2/3 tspoon red chilli powder
1 tspoon cumin powder
1/2 tspoon garam masala
1/2 cup yogurt
2 tbspoon oil
salt to taste
Method:
Heat 1 tbspoon oil in a non stick wok and fry the potatoes lightly. Keep aside. Now add te rest of the oil and temper with cumin seeds, red chilli, whole spices. Then add the ginger paste and saute for a minute. Then add the onion and saute on medium-low till the onions become golden brown. Then add the tomatoes and cook till it mixes well with the onion mix.
Then add the masala powder - turmeric, cumin seed, red chilli and garam masala and mix well. Then add the yogurt mixing vigorously to stop yogurt from separating. Add in the potatoes and cook for 10-15 minutes with closed lid till the potatoes are cooked. Add water if you need more gravy (I added about 1/4 cup).
Serve warm with luchi or paratha.
This is my entry to
Ode to Potatoes
hosted by Supriya of
Monsoon Spice
and
RCI:Bengal
by Sandeepa of
Bong Mom's Cookbook
. Thanks for hosting gals!