Kadai

Chicken is one of the recipes that is probably available in every restaurant in India and in the US. And that is where my food memory for this dish originated. We never made it at home, always ordering it outside.

After eating it innumerable times at various places, I was ready to make it at home. And when I picked some organic chicken from the farmer's market, the time was right. It's fairly easy to make, I found some recipes with less gravy, but since I like my chicken curry, it has a thicker gravy. The marinated chicken was soft and succulent, the overall flavor fragrant and delicious. We enjoyed ours with some

naan

and a cucumber, onion salad.

I am getting ready to order another chicken at farmer's market and it will be chicken tikka masala the next time.


Ingredients:
1.5 lbs Chicken
2 medium onions - finely chopped
2-3 tomatoes - finely chopped
1 medium green pepper- finely chopped
1 green chilli - slit
1 dry red chilli
1 1/2 tbsp Yogurt
1 1/2 tspoon Ginger-Garlic paste
1 tspoon cumin seeds
1" cinnamon stick
2-3 cloves
2 green cardamoms
1/2 tspoon turmeric powder
1 tspoon chili powder (adjust to taste)
1 tspoon coriander powder
2/3 tspoon garam masala powder
1 tspoon cumin powder
bunch cilantro - finely chopped for garnish
Salt to taste
2 tbspoon oil
Method:
Clean and marinate chicken with salt, and half of turmeric, chilli and garam masala powder. I usually marinate it for 4-5 hours and then lightly saute the chicken and set it aside.
In a deep pan, heat oil and temper it with cumin seeds, red chilli, green chilli, cinnamon, cloves and cardamons. Let it sputter. Then add the ginger garlic paste.

Add the onions and saute till the onion turns brown. Then add the tomatoes and green peppers and cook on closed lid till the tomatoes turn soft.

At this point, I take out the ingredients and puree it roughly to a thick paste for a smoother curry, but you can also keep it chunky.
Add the chicken pieces along with the rest of the masalas - turmeric, chili powder, coriander powder, cumin powder, garam masala, and cook for 15-20 minutes. Then add the yogurt, salt and let it cook for another 15-20 minutes till the chicken is cooked. Add 1/2 cup water if needed.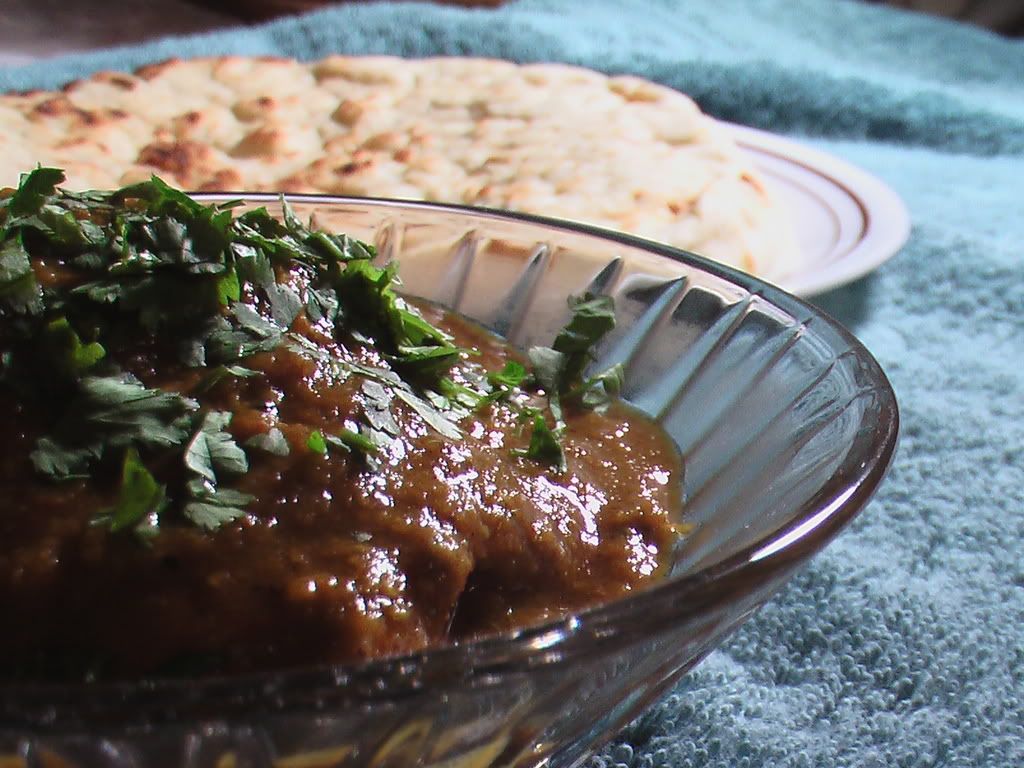 Garnish with cilantro and serve with
naan
or rice. This is my entry to
Monthly Mingle: Bollywood Cooking
hosted by Meeta at
What's for Lunch, Honey?
Thanks Meeta for hosting!