I

have been gone for a while!

I was traveling and needed some time to catch my breath. Once back home, I was in the mood for something light and comforting, just like the feeling of home, something to eat while I relax and catch up on news and television shows.
Recently, a friend recommended By the Pound. Located in S. Main street, the market has the a great selection of nuts, spices, bulk pasta, lentils, coffee, tea even olive oil and local honey. We splurged and picked up couscous, brown rice, pasta, honey, nuts, and much more…
I used the couscous for a simple vegetable couscous and served it with okra raita. What can I say? I love coming home to such delicious meals

:)
Ingredients:
Vegetables
1 small onion- finely chopped
1 garlic clove - minced
1/2 red pepper - chopped
1/2 small broccoli – chopped
4-5 brussel sprouts
½ cup frozen mixed vegetables (I used beans, peas, corn and carrot mix)
1/4 tspoon cumin seeds
1/2 tspoon cumin powder
1/4 tspoon chilli powder
1/4 cup chick peas
1 tbspoon olive oil
2/3 cup water
Salt to taste


Couscous
1 ¼ cup water
1 tspoon butter
1 cup couscous
Bunch of fresh cilantro for garnish
Method:




Heat oil in large skillet over medium-high heat. Temper with cumin seeds, then add onion and garlic to pan, and saute until it starts to turn brown.
Add all the vegetables and let it cook for 2-3 min, then add salt, cumin, chilli powder, and water.
Bring to a boil and then let it simmer on low heat and closed lid for 7-8 minutes till the water disappears.
Add the chickpeas and cook for another couple of minutes till everything cooks and mixes well.
For couscous:
In a large saucepan, heat butter and lightly sauté couscous. Remove from heat.
Boil the water and then add it to the couscous. Cover and let it sit for 10-12 min.
For serving, you can serve couscous on a plate and top with vegetables. I like to mix it together before serving.
Garnish with cilantro and serve.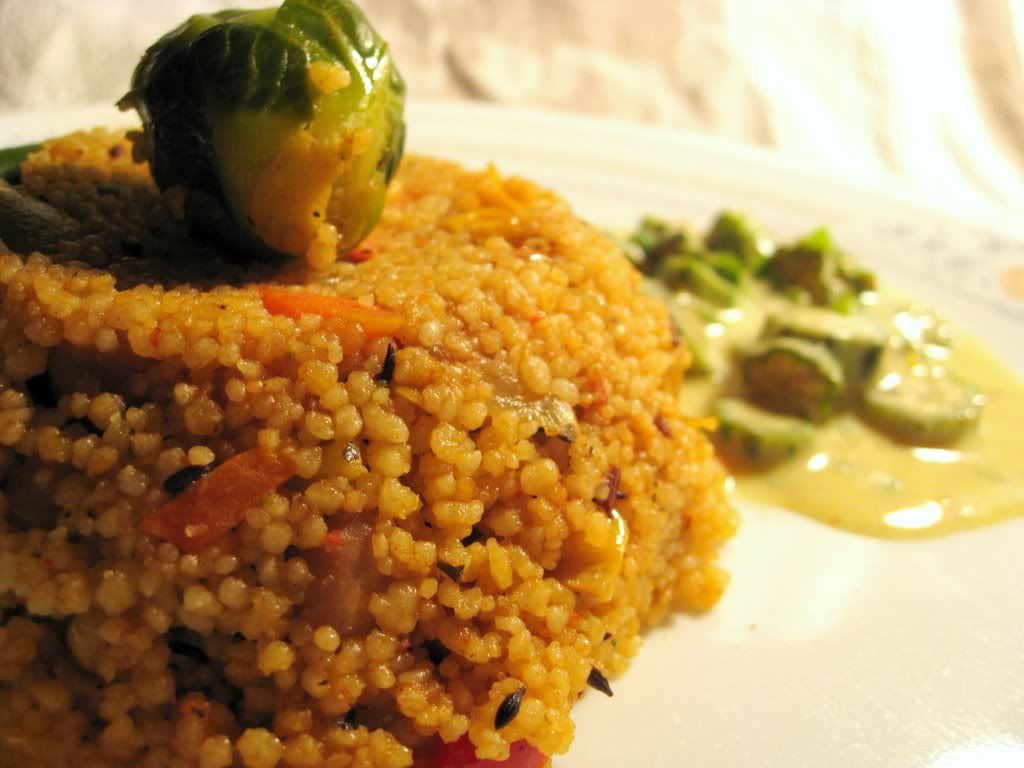 Since this has garlic, it's my entry to JFI: Garlic hosted by Mathy at Virundhu. JFI was started by Indira of Mahanandi.