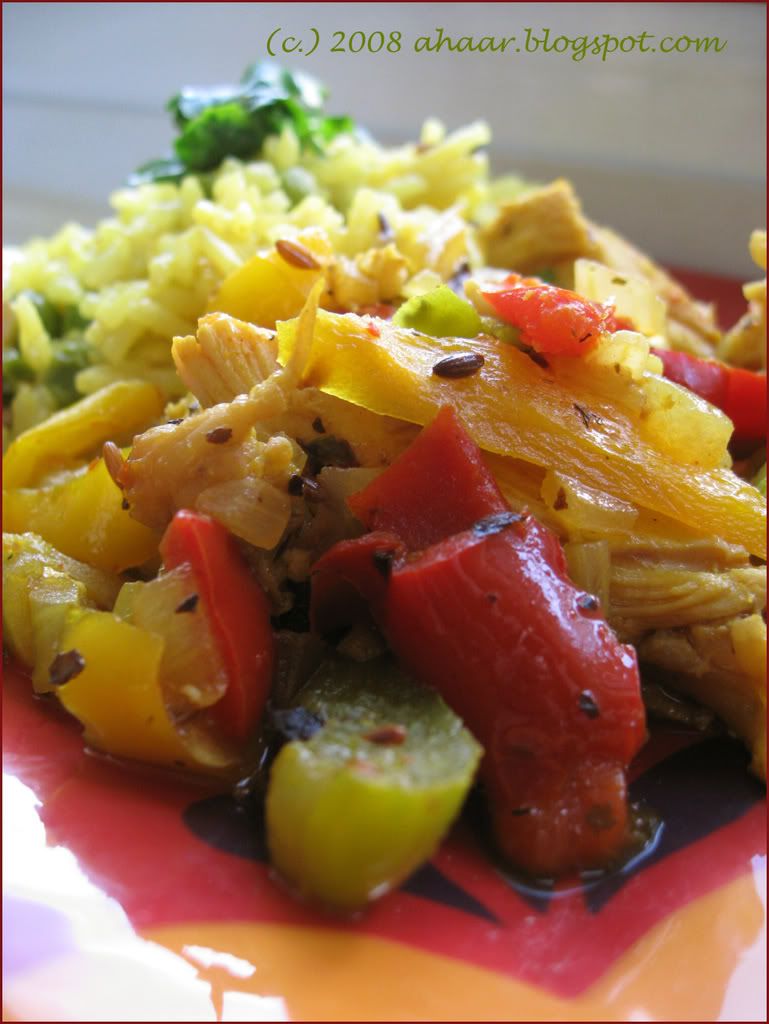 If
you look at the last few posts, you will probably think that we are surviving on chicken. :) That is not true, the truth is that I am far behind in my posts. I have been cooking old and new recipes, but somehow the posts are still in draft mode.
I like paneer jalfrezi, you can see my recipe
here
. I used the similar recipe to make chicken jalfrezi adding garlic to the mix this time. I really liked the combination of the peppers with the chicken, it kept the curry light and gave it a nice flavor and color too. Here is how I made it.
Ingredients:
1lb chicken (I used chicken breasts this time)
2 medium onion – chopped thinly
1 green pepper – chopped in thin long strips
½ red pepper - chopped in thin long strips
½ yellow pepper – chopped in thin long strips
2 tbspoons tomato puree
1 green chilli
1 dry red chilli
1/2 tspoon ginger paste
1/2 tspoon garlic paste
1/2 tspoon cumin powder
½ tspoon coriander powder
½ tspoon turmeric powder
½ tspoon red chilli powder
½ tspoon garam masala powder
½ tspoon cumin seeds
2 bay leaves
2 green cardomoms
2 tbspoon oil
½ cup water
Salt to taste
For chicken marinade:
½ tspoon ginger paste
½ tspoon garlic paste
½ tspoon turmeric powder
½ tspoon red chilli powder
½ tspoon garam masala powder
½ tspoon salt
1 tspoon oil
Method:
Mix the chicken pieces in the marinade masala for 2-3 hours. Then heat 1 tbspoon oil in a non stick pan and fry the chicken pieces till then start turning brown. Set it aside.
Heat rest of the oil in a deep bottomed pan and temper it with cumin seeds, green and red chilli. Add the bay leaves, cardamom and cinnamon. Now add the ginger and garlic paste and sauté for another couple of minutes.
Then add the onions and all the peppers and sauté for a couple of minutes till the onions turn translucent, but not brown. Once this is complete take the peppers and onions out. We will add them once the chicken is semi cooked or else they will turn into mush.
Now add the chicken pieces, tomato puree, and all the masalas. Let the chicken cook in low flame without cover with all the masalas till they coat the chicken well. Add about ½ cup water and salt and cook it covered on medium flame for 8- 10 minutes till the chicken is semi-cooked.
Then reintroduce all the peppers and onions in the gravy and let it all cook together for 7-8 minutes till chicken is done and the excess water has evaporated.
Garnish with cilantro and serve with naan or pulao. I had mine with yellow peas pulao.
This is going to Pooja of My Creative Ideas who is hosting VoW-JFI: Bell Peppers this month. JFI was started by Indira of Mahanandi and turns two this month.
Update:
I didn't realise that VoW-JFI:Bell Peppers is a vegetarian event, so this is going to
Weekend Herb Blogging
being hosted by
Cate at Sweetnicks
. WHB is a weekly event started by Kalyn of
Kalyn's Kitchen
.