Even
though the weather doesn't feel like summer, the summer food is out in a big way especially the grilling and roasting. It's on Food Network and if you walk around your neighborhood, especially on weekend, you can smell the aroma wafting in from different houses.
So keeping with the summer I made my own Green Summer Salad with roasted asparagus, cucumber, avocado, red onions, and baby romaine. I've made it before for friends visiting Ann Arbor and it's turned out well each time.
This time I made the marinade for asparagus using tamarind and brown sugar and it was out of this world. The tanginess and the sweetness of the asparagus really sparked the salad. And you can see the glaze of the marinade in the picture above :)
Ingredients:
(serves 4-6 people)
1 lb asparagus
For asparagus marinade:
1/2 tspoon tamarind paste (this is concentrated paste from Indian store)
3/4 tspoon brown sugar
1 tspoon olive oil
Salt and fresh ground black pepper for taste
Salad
1 box baby romaine (you can also use baby spinach or your choice salad leaves)
1 cucumber
1 1/2 avocado
1 small red onion
Salad dressing
1/2 tspoon lemon juice
1/2 tspoon sugar
2 tbspoon olive oil
1 tbspoon orange juice
salt and fresh ground pepper to taste
Method:
For Asparagus:
Mix the asparagus marinade to a smooth paste and mix it well with the asparagus. Let it marinade for an hour. In the meantime pre-heat the oven to 350deg C. Roast the asparagus for 9-11 min till they are done.
Assembling the salad:
Mix the salad greens with chopped cucumber, red onions and avocado. Avocado should be cut last, just before serving.
Cut the asparagus into bit site pieces and add it to the salad.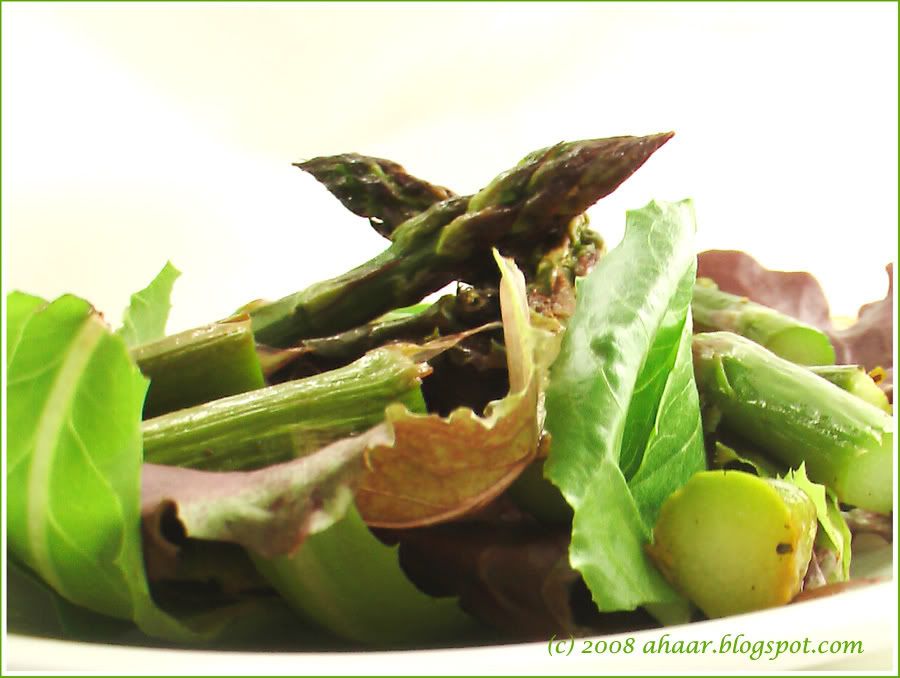 Mix the salad dressing and drizzle it on the salad before serving. I like to keep it in a separate bowl and let guests serve as per their need.
This salad is head to Sig at
Live to Eat
where she is hosting
JFI:Tamarind
. Thanks for hosting Sig!