Summer
isn't complete without mangoes. So when the first mangoes came in the market last month, I picked up a couple and tried this dessert for the first time. Since then, I have already made it a few times, and served it to friends with great success. The combination of cheese, mango and sugar make this dessert heavenly.
Best of all this is a no bake, chilled dessert. It's best if you make it in advance as it needs to chill to get the right consistency. This works as a great dessert after a spicy meal. Enjoy.
Ingredients:
1/2 pint heavy cream
1 cup confection's sugar
8 oz. marcarpone cheese - softened
1/2 large can mango pulp (I found it at an Indian store)
1 tspoon vanilla extract
1 graham cracker crusts (I used a readymade chocolate crust from store)
2 small mangoes
Method:
Cut one mango in small chunks to be used in the pie mix. Keep the other mango for layering the pie.
Mix the heavy cream with half of the sugar till you get whipping cream. Now mix this with the mascarpone cheese and sugar. Fold it together till it blends well.
Now add half can of the mango pulp, little at a time to the mix and fold it together.
Blend well until the entire pulp is incorporated. Add the vanilla essence and mix the small mango pieces into the mix.
Pour mixture into the graham cracker crust. Cut the other mango into thin, long slices and put it on top of the pie.
Put it in the refrigerator overnight.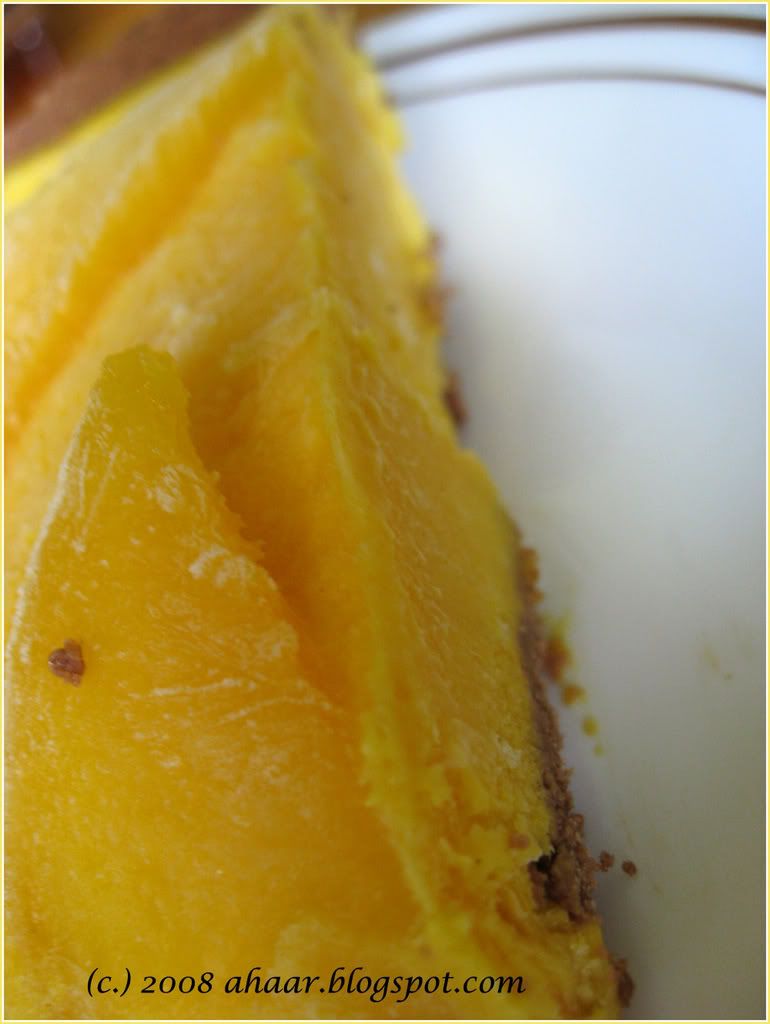 The first time I I didn't have enough time, so I put it in the freezer for 3-4 hours to set it and took it out 25-30 min before I had to serve and put it in the fridge.
The first picture is my entry for Click:Yelow for Bri hosted by Bee and Jai at Jugalbandi and the Mango Pie is going to Monthly Mingle 23- Mango Mania hosted by Meeta at What's for Lunch, Honey?