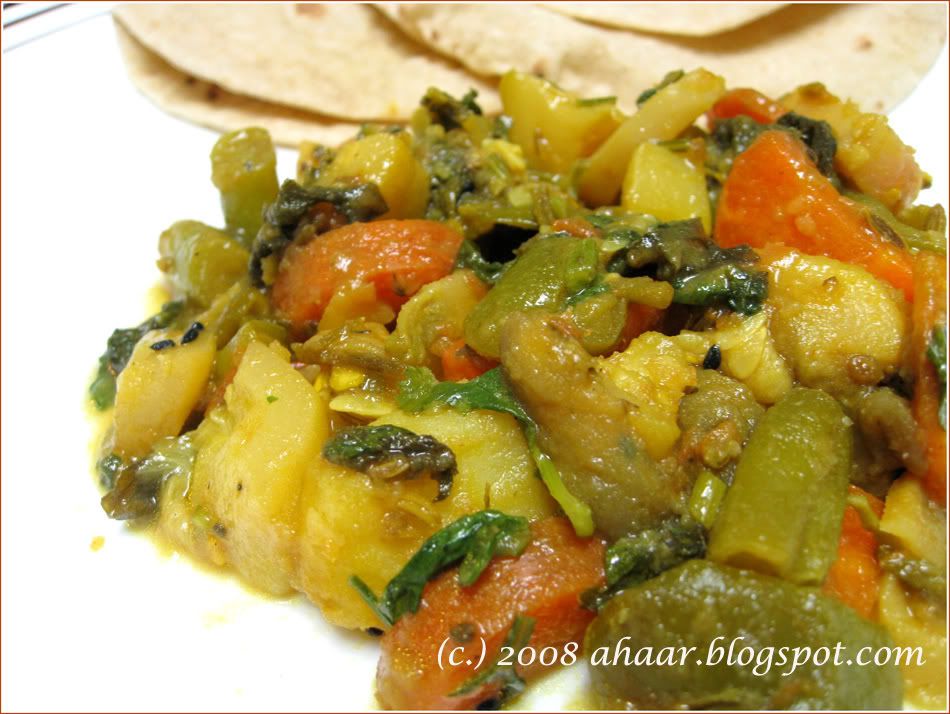 I
have had a busy week! You see, my parents came last week and I have been showing them around town. They are enjoying visiting the Farmer's Market, different cuisines, walking around the University, parks and other local stores.
While I am enjoying their company and having them around, the best part of the visit is definitely the cooking. It's that invisible touch which makes each meal that much more delicious. Whether it is
Chingri Malai Curry
(Shrimp in coconut-garlic sauce), or
labra tarkari
(vegetable medley) So for the next few months, I will be cooking less while my parents whip up various goodies. And I promise to share these recipes :)
I want to start with
Panch Mishali Tarkari
, which literally means Five Vegetable Medley. Five vegetables (this had radish and radish greens, green beans, eggplant, potatoes, carrots) are cooked with panch-phoron, ginger and chillies and tastes delicious with some rice and simple dal. It's usually eatan as the first course of a Bengali meal. Here is how they made it.
Ingredients:
(serves 4-5)
2 carrots - chopped
2 potatoes- chopped
1 small eggplant - chopped
4-6 radish with radish greens - chopped
bunch of green beans - chopped
1 tspoon panch phoron
2 bay leaves
2 dry red chilli
1" ginger
2 green chillies
1 medium tomato- chopped
pinch of turmeric powder
pinch of asafoetida
salt to taste
1 tbspoon oil
Method:
Grind the ginger and green chilli paste. Keep it aside.
Now heat oil and temper it with asafoetida, panch phoron, bay leaves and red chilli. Then add the turmeric powder to the oil. Then add the chopped tomato and saute for 2-3 minutes.
Next add all the chopped vegetables and let it cook for 7-8 minutes on low medium heat on closed lid. One the vegetables are semi-cooked, ad the ginger and green chilli paste and cook it all together for another 5-6 minutes till the vegetables are cooked and the water has disappeared.
Take it off the heat and garnish with chopped cilantro. Serve with dal, rice or even with chapati.
This delicious vegetable medley is going to
Weekend Herb Blogging
being hosted this week by Archana at
Archana's Kitchen
. WHB was started by
Kalyn of Kalyn's Kitchen
.