Remember
the
strawberries
from the Farmer's Market? After I had my fill of fresh strawberries, I still had a good bunch left. And after dreaming about strawberry shortcake and other pies and tarts, I decided on trying something different, something I have never tried before. "How about jam?," the little voice inside me egged me on, so I looked around and found a simple and delicious-looking recipe on
Arabic Bites
.
I adjusted it to my two cups strawberries (which is what I had left) and added some ingredients of my own -- lemon zest and pinch of clove powder. It came out fabulous! I wanted to eat the entire bottle as it came out of the stove, but am saving some for weekend breakfast :)
Here is how I made it.
Ingredients:
2 cups Strawberries cleaned and sliced
1 cup sugar
Juice of 1/4 lemon
zest of 1/2 lemon
pinch of clove powder
Method:
Boil the sliced strawberries on a thick-bottomed pan.
Once it starts boiling add the sugar, lemon juice and 3/4 cup water. Let it cook over medium low heat and closed lid.
When the mixture starts to thicken, add the lemon zest and clove powder and let it cook for another 10-15 minutes on medium low heat without the lid.
Keep checking till you feel the consistency is right. Take it off the heat and let it cool. Then pour it in sterilized bottles.
Serve with butter and bread (my favorite combination) or make up your own.
This is going to
MBP:Less is More
being hosted by Nupur at
One Hot Stove
. Great Idea Nupur! Monthly Blog Patrol was started by Coffee at
The Spice Cafe
With the rest of the ingredients, I made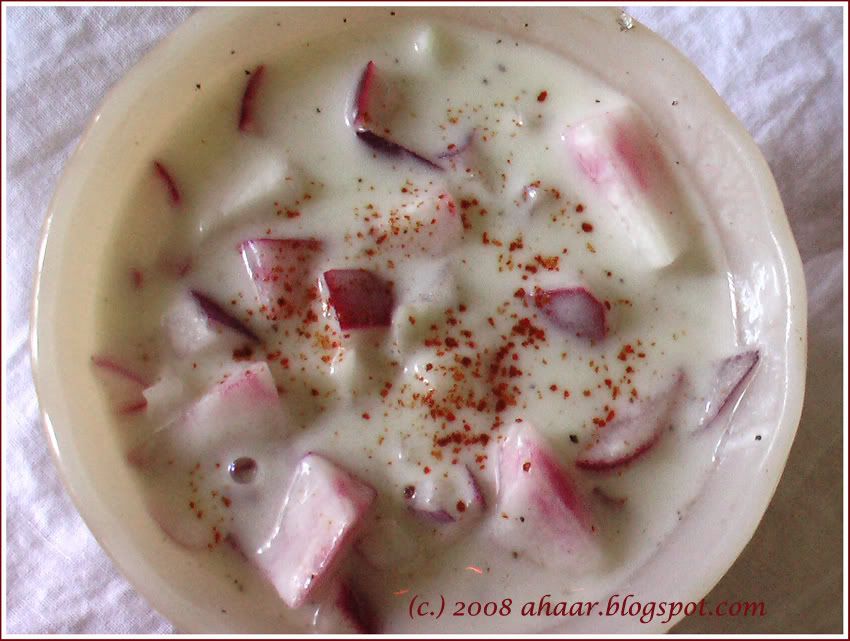 radish & onion raita, and

It made one delicious lunch.
Happy Fourth of July everyone!