The
weather has been fluctuating here for the last two weeks. After the gorgeous few days of fall weather, it turned cold suddenly and around the same time I got a bad bout of cough which is refusing to go away. As the week is winding down, I am craving comfort food like a bowl of hot soup and a chick flick to go with the bottle of
Nyqui
l and
Riccola
.
The first part was easy, I took out my slow cooker and let the soup cook for 5-6 hours, then boiled some soba noodles to go with the soup for a comforting dinner. As for the movie, now that is a difficult choice...
The soup has my favorite veggies from the Ann Arbor Farmer's Market - fresh carrots, beans, onions and peppers and my favorite herb - cilantro. And cooking it in the slow cooker just makes it extra delicious, perfect for any weather, cough or not :)
Ingredients:
2 chicken thighs boneless - cut in small pieces
2 carrots - sliced
few green beans - sliced
2 celery sticks - sliced
1/4 cup peas
1 green pepper sliced
1 smal onion - sliced
1 tspoon ginger - grated
2 cloves garlic - cook them whole in the soup
1/2 tspoon turmeric
1 tspoon coriander and cumin powder
1/2 tspoon black pepper
1/2 tspoon oregano
1/2 tspoon cumin seeds
1/2 tspoon fresh cilantro
1 clove
1 stick cinnamon
1/2 pack soba noodle
1 tbspoon olive oil
salt to taste
3-4 cups chicken stock (I just use store bought)
Method:
I like to saute all my ingredients and spices lightly before I put them in the slow cooker. Rub the chicken with salt and pepper and saute it in a non stick pan with 1 tspoon oil for 6-8 minutes till they start turning brown. Keep it aside.
Then heat the rest of the oil and temper it with oregano, cumin seeds, clove and cinnamon. Then add the ginger and garlic and saute for a minute. Then add the onion slices and saute for another minute. Then add the carrots, beans, celery, peppers and peas and let it cook for another couple of minutes.
Add all the ingredients in the slow cooker along with, cilantro, chicken pieces and chicken stock and let it cook. I put mine on slow setting (it has only 2) and by the time it was done, my kitchen was smelling wonderful.
I take the garlic out, mash it with fork and mix it in the soup. When the soup is done, boil some soba noodles and mix it with soup. Or you can enjoy it with some buttered toast.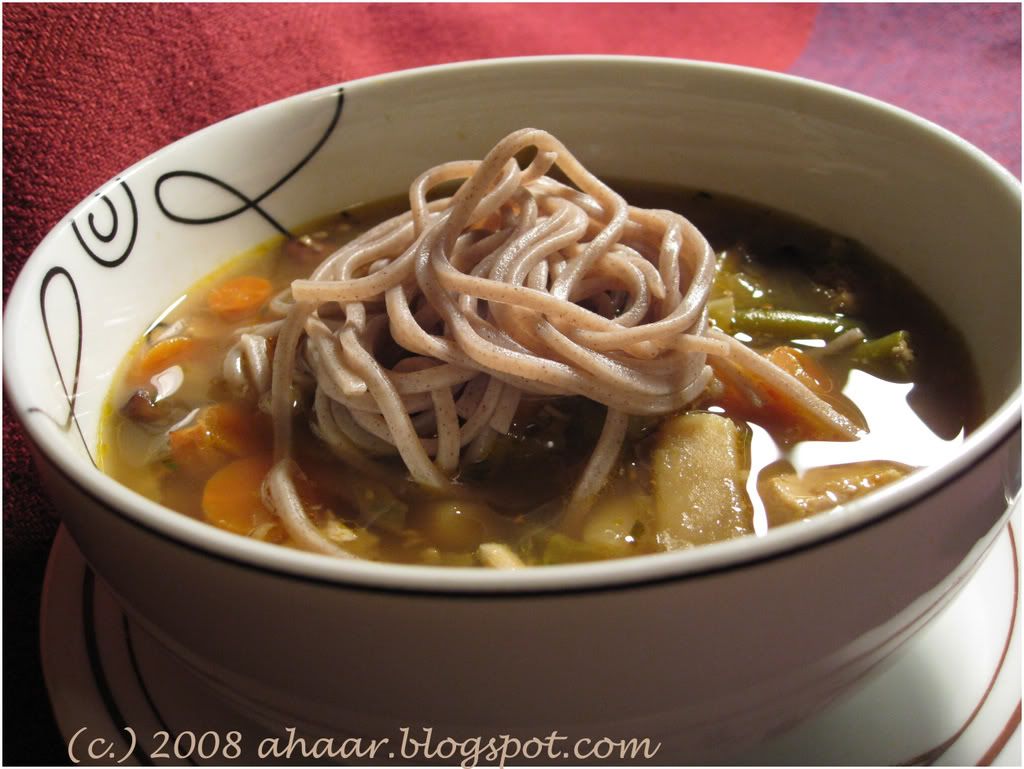 This is going to Kalyn at
Kalyn's Kitchen
who is celebrating third anniversary of
Weekend Herb Blogging
. Congratulations Kalyn!